ANALYSIS OF MONOGLYCERIDES BY HPLC
Determination of 2-monoglycerides by HPLC
Lopez-Lopez A et al (J Chromatogr B 2001, 760, 97)

PREPARATION OF SAMPLES
Before HPLC, samples must be purified to removed free fatty acids and other glycerides. This preparation may be effected by TLC or low-pressure column chromatography. For vegetal samples which have been enzymatically hydrolyzed, the presence of free fatty acids does not interfere. For all samples, the presence of diacylglycerols or triacylglycerols induces requires a longer running time with a gradient formed with a less polar mobile phase.

METHOD
The chromatographic separation of 2-monoglyceride species is carried out on a reversed-phase column eluted with acetonitrile/ acidified water (99/1? v/v), flow-rate: 1 ml/min, column temperature: 30°C.
The detection is done with a light-scattering detector, the response being proportional to the amount injected raised to a power easily determined with standard calibrated solutions.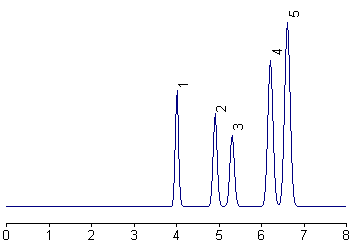 1 = 2-monolinolenin, 2 = 2-monomyristin, 3 = 2-monolinolein
4 = 2-monoolein, 5 = 2-monopalmitin